"How Hank's Health Crisis Began A Quest To Build The Biggest, Most Supportive Dog Beds in America..."
Can I tell you an embarrassing secret? When I was a kid, I was scared of dogs. Petrified. To where I'd literally rush across the street if someone was coming my way walking their dog. Even if it was a nice, happy, leashed Golden Retriever who just wanted to sniff me! Heck, I was even terrified of Pomeranians and Shih Tzu's.
Yup, even a super manly kid like this was still scared of dogs.
If you would have told the kid version of Eric that, one day, I'd earn my living by making beds for big dogs, and that my life would be changed by a 92 lb dog named Hank who looks like sort of like a crazed hyena, I wouldn't have believed you. My own mother would have thought you were nuts too.
By 2004, I was 27 and had gotten a bit braver. Around puppies, at least. So I ventured to Cape May, NJ to go meet 12-week-old Hank for the first time.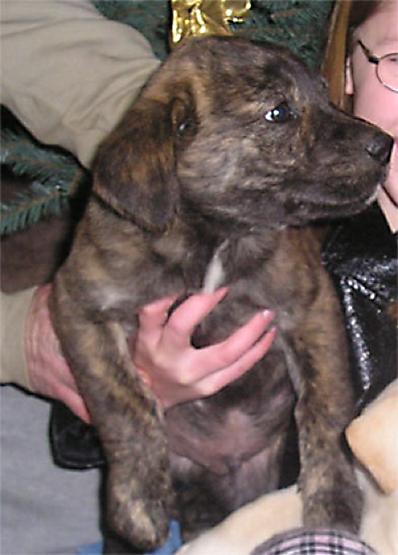 They said he was "half Lab, half Basenji"…what do you think?
His brothers, who looked like adorable little baby labs, were thrilled to meet the new visitor. They were jumping all over me, licking, playing, and were happy as can be. A minute later, I heard [thump… thump… thump].

Here comes Hank, barreling down the stairs. Twice the size of his brothers, sprinting towards them, crashing into them headfirst, sending them tumbling across the carpet, stopping briefly to squat and pee on the rug, then he was off again to chase a cat around the house. I knew right then…. this was my main man.

Once he came home with me, we were inseparable. I worked from home, so we'd spend hours every day wrestling, walking through the woods, and learning new tricks. Sometimes, I'll admit, I'd get a bit frustrated with him. Hank was a bit hard to handle, being that he was an extremely energetic and rapidly growing dude who didn't quite understand when I'd say "come on, man… I'm sleeping… I can't play with you right now…" I imagine that most dog lovers have felt like that at points in their lives.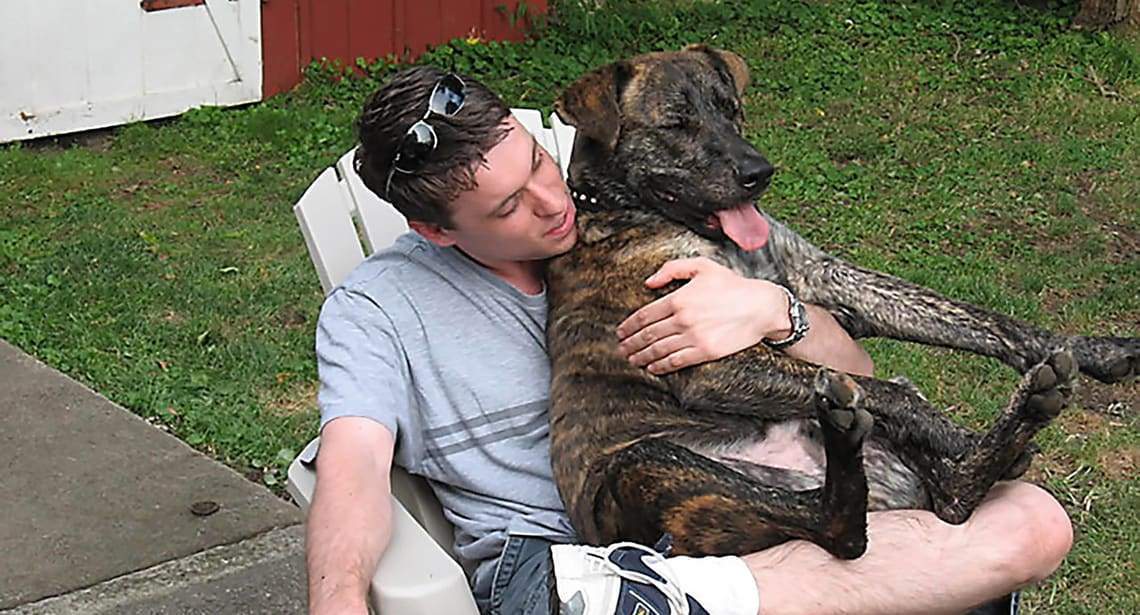 Hank at 9 months old (2005), not quite full grown yet. Minutes after this photo, I found him lounging up to his neck in a mud puddle
But then something happens that reminds you just how deeply you love and care for your big guy (or gal). For me, it was one day in the Fall of 2005 when Hank's vet delivered the bad news:
Hank Needed a New Hip.
He had an early case of hip dysplasia. He's far from alone. Many large dogs live in constant pain due to this and other joint conditions like arthritis, degenerative joint disease, or complications from earlier injuries. Saddest of all, research has shown dogs have evolved over thousands of years to hide their pain, so not to show weakness to predators.

So day after day... they just suffer in silence!

For Hank, option one was surgery.

I remember how my stomach turned when the vet graphically described how he would saw off part of Hank's leg bone, then attach what's left of the leg to his pelvis using metal pins.
"Or...." the vet told us...
Do everything possible to keep stress off his hips. BE VERY careful with exercise. Keep his weight down. And keep him from sleeping on hard surfaces. In my panicked state... anything was better than surgery and the risks it carried! Not to mention, assuming everything went well, I feared how big the vet bills would be for such a complex procedure. At this point, I went home to hit the Internet, ready to take action and be proactive to protect Hank.

I knew feeding and exercising Hank properly wouldn't be a problem.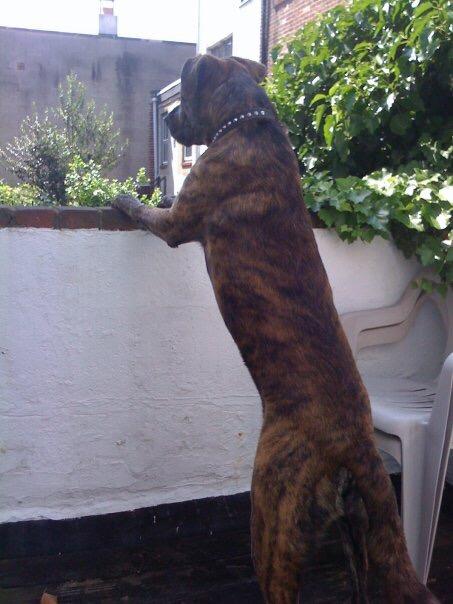 This big beefcake needed more than just a normal dog bed!"
But I didn't know how to ensure Hank always slept on a comfortable supportive surface. Which is critical because dogs can sleep 18 hours a day!

And unless you want to totally give up your bed or your couch, that can cause a major problem for a big dog owner who wants to do right by their dog. I spent a TON of time shopping and researching dog beds, but couldn't find anything that actually felt like a "real bed" that would protect Hank's hips.

So I set out to solve that problem.

In 2006, I started a company called Oh My Dog Supply.

Our goal was to find high quality dog products made by small manufacturers that you couldn't find in the big pet stores, and make them available to dog lovers across the country. It was a hit! We specialized in dog beds - in fact, we were Google's #1 ranked site for "dog beds" for almost 5 years!
However, the one thing that was always hard to find was items for big (and REALLY big) dogs. Finding good quality stuff for a Beagle? Easy. For a Mastiff? Not so easy. Especially when it came to dog beds!

After selling thousands of dog beds from all the leading brands, and after hearing feedback from so many big dog owners over those years, I knew it was time to start a new company to create what the market was really crying out for: A superior dog bed made to serve the special support needs of big dogs!

My first plan of action was to contact one of America's most talented foam engineers. When he heard Hank's story and my desire to build a "dream" doggie bed, he agreed to lend his considerable talents to my quest.

First, he helped formulate our unique 3-stage foam construction, combining comfort with durability. Then, we went to great lengths to calibrate our beds for optimal support distribution.
Needless to say, thanks to a lot of very special people, we've been able to reach our goal of creating a dreamy bed for our loyal and deserving big dogs.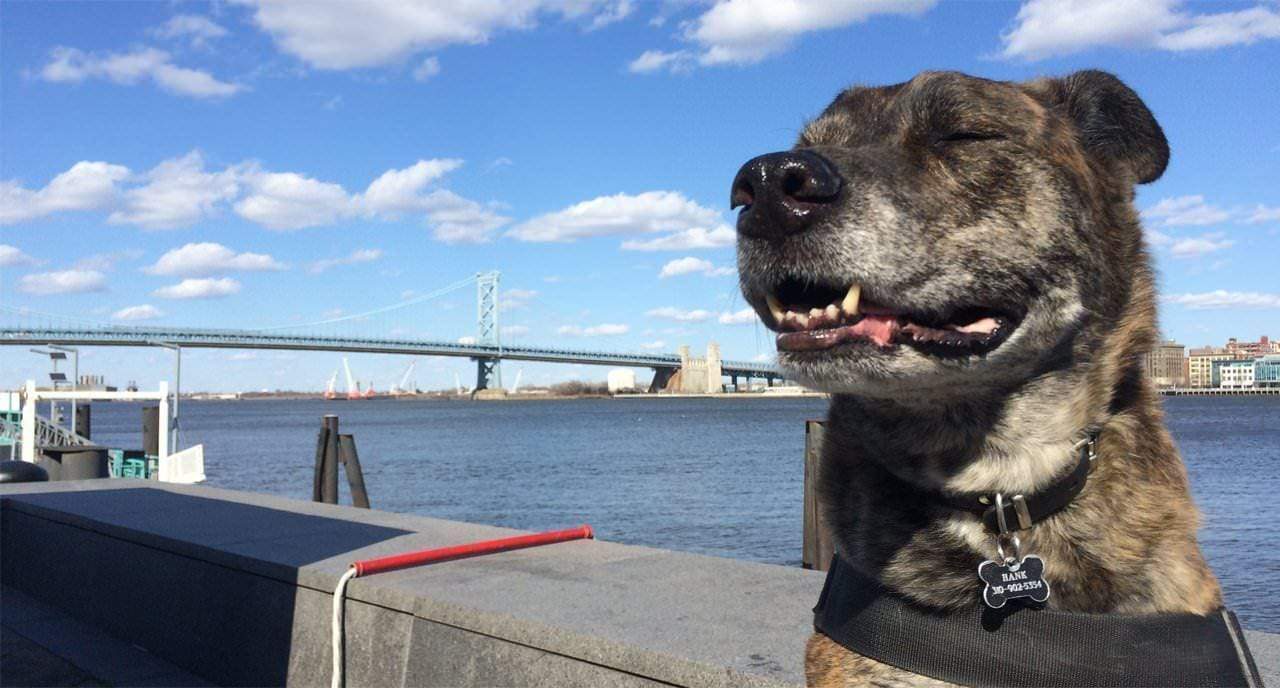 At the Ben Franklin Bridge in Philadelphia, Spring of 2015, first long walk of the year. It was tougher for him as an 11 year old, but he was happy to have the wind in his face. I was proud of him.
Through the years, along the journey from a tiny little dog bed company to a proud member of the Inc. 5000, we've stuck to three core principles that bind us together as a group and will never, ever change.

If these three things are important to you as well, we'd probably be very good friends :)
OUR VALUES
"Only American Made is good enough for our dogs"
Every Big Barker is handmade by experienced furniture craftsmen in our small, sunlit workshops in Delaware and Pennsylvania. We're proud to offer you the reassurances of a truly American-made product. Our key ingredient? Super supportive and durable American made foam. We wouldn't have it any other way because you and your dog deserve the very best.
"Be the easiest company to do business with"
It starts with our 1 year risk-free trial of our product, but it doesn't end there... Because we're a small and friendly company of passionate dog lovers, you'll always get quick help from an actual human who cares about the happiness of you and your dog! And most importantly of all, we will always insist on giving your money back if you're not 100% thrilled with your order.
"Help dogs in need whenever possible"
Every dog needs to know they're special, loved and deeply appreciated. So we make it our business to give back in a big way to big dogs across America. It's our honor to gift Big Barkers to dogs who serve our country and communities with bravery and valor; dogs who give strength and companionship to wounded veterans; dogs who need a speedy recovery after a stressful surgery; and dogs in desperate need of their forever home.
For Us...It's Personal
We dedicate our lives to making sure that dogs know that they're loved and appreciated. A substantial percentage of our profits go towards giving our therapeutic mattresses to the dogs who need them most, but wouldn't otherwise have the ability to get one. Click below to learn about some of our charitable partners.
POLICE K-9 UNITS
"We're Honored to Protect The Joints of the K9 Officers Who Risk Their Lives For Our Communities",
"We're Honored to Protect The Joints of the K9 Officers Who Risk Their Lives For Our Communities",
Police K9's have a much different life than the average household dog. They work long hours, ride in patrol cars, chase down suspects, and keep dangerous weapons, substances, and people off our streets. It's a hard day's work.

Now factor in that most of the dog breeds that serve in law enforcement are especially prone to joint conditions like arthritis and hip dysplasia, and you can see why the joints of a police dog require even more care than most other large dogs.

We've made it a big part of our company mission to donate Big Barker beds to police K9 units, to both the active and the retired officers. Some of the departments that use Big Barkers for their entire K9 units are in Pennsylvania (Philadelphia, Allentown, Harrisburg) and in Atlantic City, New Jersey.

We're honored to support these heroic dogs and we're honored to be the official dog bed of the USPCA (United States Police Canine Association).

And if you ever hear about a police dog getting injured in the line of duty, please let us know. We'll send them a bed.
DOG RESCUES & SHELTERS

"Making rescue dogs more comfortable while they wait for their forever homes"
"Making rescue dogs more comfortable while they wait for their forever homes"
The look in the eyes of an abandoned or neglected dog, it's not something you easily forget. They must be terrified as they dodge traffic, scavenge for food, or desperately try to avoid cruelty from humans who should be behind bars…

An astonishing 3.9 million dogs enter shelters every year. The shelters love and care for these dogs, and we try to aid the shelters as best we can.
One small way we're able to help is to provide Big Barkers for use in the shelters while dogs are recovering from medical care or are waiting to find their forever homes. They're safe and cared for once they're at the shelter and we're honored to add any additional comfort we can provide.

We've worked with the two largest no-kill shelters in Philadelphia - Philly PAWS and the Philadelphia SPCA - to outfit their facilities with donated Big Barkers.. The dogs are safe and cared for once they're at the shelter, and we're honored to add any additional comfort we can provide.

We've also assisted with successful fundraisers for national organizations like Old Friends Senior Dog Sanctuary, National Mill Dog Rescue, and Big Dogs Huge Paws (raising over $40,000 to date!) and have also provided hundreds of Big Barkers to be used as raffle or auction items at local rescue events.
VET HOSPITALS
"Helping Dogs Through the Most Painful Times in Their Lives"
"Helping Dogs Through the Most Painful Times in Their Lives"
When a dog undergoes serious surgery at a veterinary hospital, their bodies hurt, they're in an unfamiliar place with unfamiliar people, and they don't fully understand what's happening to them.
If we can provide comfort during this time of confusion and pain, we're proud to help. It's why we've donated Big Barker beds to veterinary hospitals around the country so we can help their patients recover in the safest and most comfortable way possible.
One of the largest institutions using Big Barker beds to aid in recovery is University of Pennsylvania's Ryan Veterinary Hospital.
Big Barker mattresses are used in their Emergency & Critical Care, Neurology, Surgery, Oncology, and Orthopedics departments.
Dr. Kimberly Agnello, Assistant Professor of Small Animal Surgery at University of Pennsylvania says:
"The biggest benefit I have seen is that these beds help these patients be comfortable while they are in the hospital by protecting their joints."
Jonathan Wood, staff veterinarian in Neurology at Ryan Hospital, confirmed the need for a multi-purpose resting surface for patients who are often in treatment for days or weeks at a time
"If they're not laying on something that is pliable and yet firm enough to keep them up and off the ground, then we transition from just trying to treat the disease to finding things like bed sores, muscle contractions, and tons of other secondary problems."
Through these donations, we're only too happy to play a part in these dogs enjoying a speedy recovery.
MILITARY SERVICE DOGS
"It's our great honor to gladly donate Big Barker beds to America's wounded warriors and the Patriot PAWS service dogs they depend on…"

"It's our great honor to gladly donate Big Barker beds to America's wounded warriors and the Patriot PAWS service dogs they depend on…"
In the town of Rockwall, Texas, patriotic dog lovers have banded together to lend a helping hand to America's most deserving heroes.
To date, Patriot PAWS has expertly trained over 77 service dogs, specifically to meet the urgent needs of mobility-impaired veterans nationwide, returning home with disabling combat injuries and PTSD.
With the help of their devoted dog, veterans can now regain the emotional and physical independence that the battlefield almost took from them for good.
It's our honor and privilege to be able to donate a brand new Big Barker dog bed to each wounded warrior whom Patriot PAWS pairs with their highly-trained service dogs.
OUR PROMISE TO YOU
Your Dog Loves it, or You Don't Pay!

SPECIAL BONUS GALLERY
If you liked the story of me and Hank, here's a special gallery of our life together over the years.
I'm not normally an emotional guy, but putting this together pulled at my heartstrings a bit.