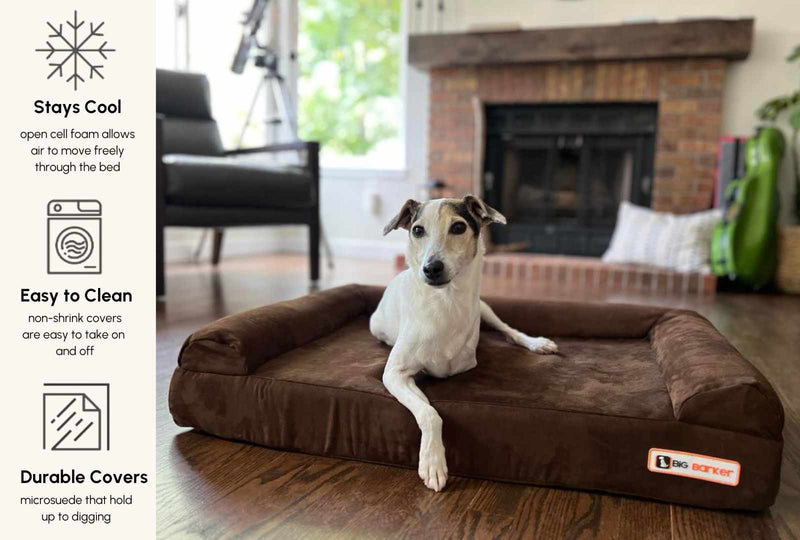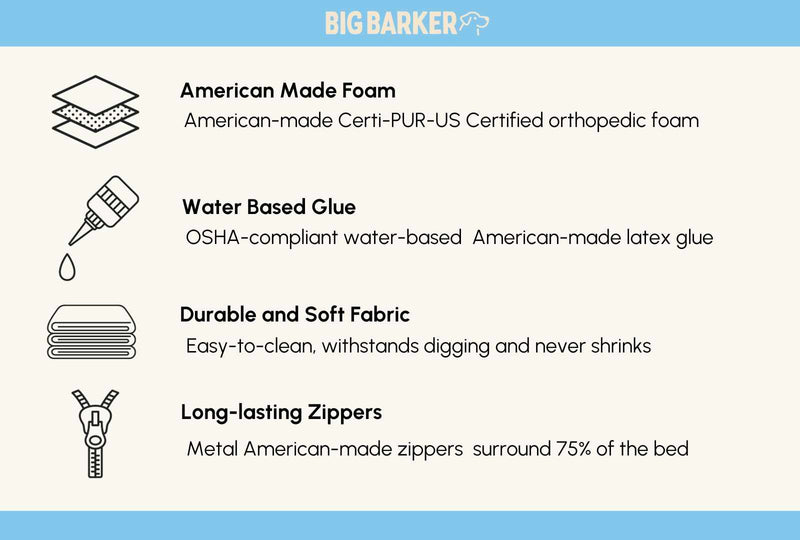 Introducing the 4" Orthopedic Sofa bed, exclusively engineered for medium-sized dogs! 🐶
Crafted with the same materials as our best-selling Big Barker 7" beds... our 4" Orthopedic Beds have been expertly calibrated to support the joints of dogs up to 60 pounds.
It comes with the same perks as our bigger beds...
10-Year Warranty: The foam will retain 90% of its original shape and loft for an entire decade, or your money back.

American Foam: The highest quality foam you'll ever find in a dog bed. Won't flatten or pancake over time.

Superior Support: Orthopedic foam comforts joints & keeps your dog's pressure points from ever touching a hard floor.

Handcrafted in the USA: The craftsmen in our small Pennsylvania workshop have over 100 combined years of furniture-making experience.

Washable: Our covers are easy to take on and off and hold up to thousands of cycles in your washing machine.
The most accurate way of choosing the perfect size bed for your dog is to take a quick measurement. Use a tape measure and write down your dog's height from paw to shoulder.
This is your dog's maximum size at a full stretch. Most dogs don't sleep in a full stretch position, but you want a bed that is big enough at maximum size. Make sure you choose a bed that is at least as long as the head-to-butt measurement and at least as wide as the paw-to-shoulder distance.


🐶 Breed Recommendations 
Take measurements for 100% accuracy, but in most cases, the following guidelines should help you pick the right size bed. 
Mini: For dogs shorter than 18" tall
Perfect for breeds like Beagles, Chihuahuas, Miniature Pinschers, Shih Tsus, and Pugs.

Small:  For dogs shorter than 21" tall
Perfect for breeds like Basenjis, Cocker Spaniels, Whippets, Airdale Terriers, and Shetland Sheepdogs.

Medium: For dogs shorter than 23" tall
Perfect for medium dogs under 60 pounds, including Australian Shepherds, Border Collies, smaller Labradors, Pitbulls.

Add a Waterproof Liner?
Protects against spills, accidents and stink.